"Fast and Done! Export Browsing History to Csv File, Save Data as You Like!
Microsoft recently released a new feature in the Canary channel of its Edge browser that allows users to export their browsing history as a CSV file. This feature is currently limited to the user experience of the Canary version, which is expected to be officially launched around September 14, 2023.

Browsing history is the footprint left by the user when surfing the Internet, recording the websites and pages the user has visited. Modern browsers can import browsing history and other data from other browsers, and Edge is no exception. However, previously users could not export their browsing history as a separate file, or move it to another Edge browser unless they used the sync feature.
Microsoft Edge appears to be the first browser to offer users the ability to save their browsing history as a CSV file, a common data format that can be opened and edited with spreadsheet software such as Excel.
To use this feature, users need to do the following steps:
Go to edge://settings/help and update Microsoft Edge Canary to version 117.0.2026.0.
Press Ctrl + H or click Menu > History, or type edge://history directly.
Click the three-dot button on the history popup and select Export Browsing Data.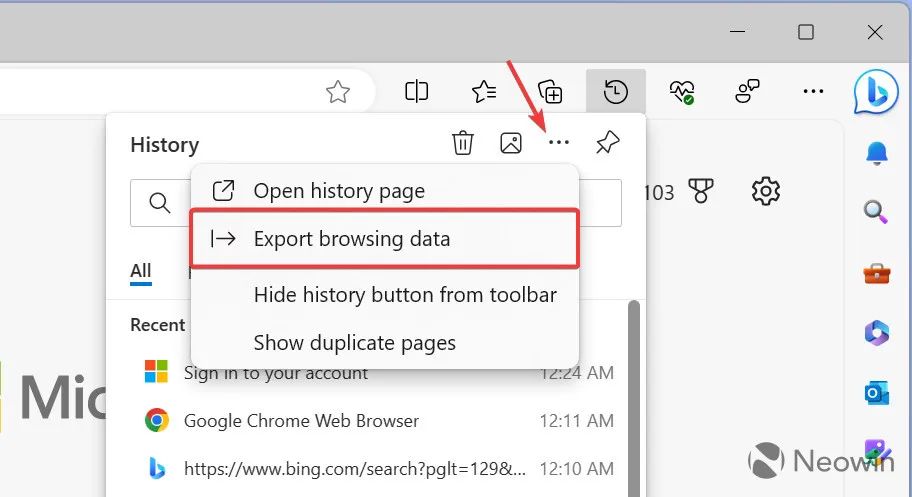 Choose where to save the CSV file.
Currently, Edge Canary does not have a well-developed interface for importing history using CSV files. However, users can simply drag and drop the backup file into an Edge window to import it.
Let's look forward to this new feature!
Comment